Beach Buggy Blitz
1.5
Participate in a Buggy Race on the Beach
Do you like buggies? Would you like to participate in a buggy race on a tropical island? If yes then this buggy racing game is the perfect fit for you. Beach Buggy Blitz is a cool game in which you get the chance to race various types of buggies on a beach track and try to beat the clock. It lets you race your buggy as fast as you can on a sandy track and reach the checkpoints before the timer runs out. You will have to watch out for various destructible items in your path that will try to slow you down. Moreover, there will be other buggies racing alongside you and they will also try to get in your way.
Beach Buggy Blitz has smooth gameplay and stunning graphics. The visuals are very detailed and give you the chance to clearly view the tropical island and the mysteries it has in store for you. You will find the controls of this buggy race game to your liking as well. They are simple and easy to understand. Also, there are multiple control modes on offer so you can pick the one that suits your playing style. For instance, if you like tilt controls then you can steer your buggy by tilting the phone screen to the left or the right. However, if you prefer controlling the car using touch then you can choose the touch controls. In both modes, you will find two brake pedals on either bottom corner of the screen.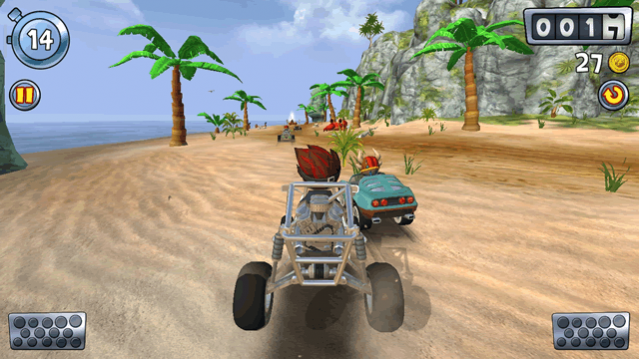 In this buggy race game, you will be racing the clock as opposed to other racers. You will find a timer located on the top-left corner of the screen. It will continue to count down and your job is to reach the next checkpoint before it counts down to zero. Thus, you need to be fast enough or your race will end. However, driving your buggy at high speed won't be easy. You will have to maneuver your buggy around the various items littered on the beach track you are racing on. All of these items are destructible so you can just blast thrsough them. But, each time you hit them, your speed will go down. This will make it harder for you to reach the checkpoint in time.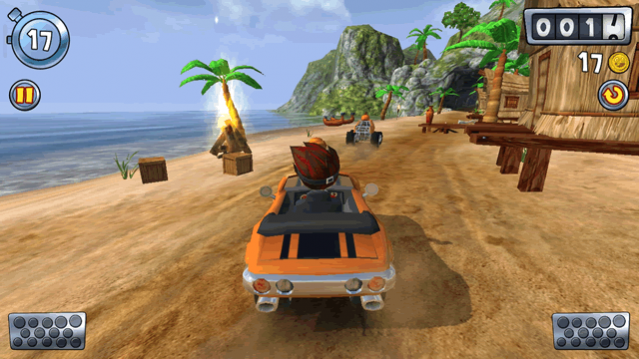 Beach Buggy Blitz offers a variety of beach buggies to you. At the start of the game, only one of them will be available to you. The rest of the buggies can be unlocked by spending gold coins. You can collect these gold coins during the buggy race by driving your buggy over them. The buggies you unlock can be painted in a color of your choice at the garage. In addition to the buggies, you can unlock various colorful characters too. Again, you will have to spend the coins you collect to unlock the different characters. There are power-ups and gadgets provided to you in this game as well. You can buy and upgrade the power-ups to get more use from them. Similarly, the buggies can be upgraded to make them run faster.
Features:
A wide range of buggies to race
Paint your buggy in a color you choose
Upgrade your buggy to make it go faster
Race on a beautiful tropical island
Beach full of statues and caves
Destructible items to bulldoze through
Beat the clock to continue racing
Collect coins while exploring the island
Lots of colorful characters to unlock
Multiple power-ups to maximize your score
Option available to upgrade your power-ups
Various gadgets to unlock and use
Multiple control modes available
Conclusion:
Beach Buggy Blitz is a gaming app that is aimed at people who are fans of beach racing. It offers them the chance to drive a wide range of buggies on a beautiful tropical island and explore the mysteries it hides. It is an excellent buggy race game to have on your phone.
---
Add a review
Tell us your experience with
Beach Buggy Blitz
1.5
RELATED PROGRAMS
Our Recommendations
---
---
---
---